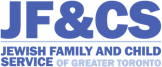 Agency: Jewish Family and Child Service of Greater Toronto
Jewish Family and Child Service of Greater Toronto is a multi-service agency that supports children, families and communities by increasing safety and security, improving mental health and awareness and reducing the effects of poverty within the context of Jewish values.
JF&CS works within the traditions and experiences of the Jewish people however many of our services are open to the general community. Through our work, we support families dealing with abuse, children in need of care, Holocaust Survivors and so many more.
At JF&CS, we also provide a host of Women Abuse Services that support women and children (both Jewish and non-Jewish) who have experienced domestic violence of any kind.
We work hard to ensure that every client we interact with is given access to all the support they need in order to create a community where hope, dignity and humanity thrive. It is through a mutual accountability, trust, collaboration, learning, renewal, care, and resilience that we foster a positive and flourishing community.