Blue Door
Housing and peer support services available.

Family Services York Region
Our groups provide strategies to cope with problems as well as offering support to adults, children and families. Groups include: Parenting for Life, Positive Parenting Program, MAST, Men's Anger Management, Raising Hope, Farsi Women's Support, Emotional & Interpersonal Skills Development, Transgender Support, and Outreach or Language Specific Groups.

Krasman Centre
Housing 2 Health supports people that have experienced chronic homelessness into housing, regardless of the contributing factors, with special focus on individuals currently not connected to or not wanting to connect with formal services.
Family Support Program offers resource services to families of psychiatric survivors.
Peer Support Community of Practice is to provide a forum for mutual support, to share ideas and engage in activities that develop the practice and profession of peer support.

Rose of Sharon
ABC All Babies Count is a free weekly prenatal nutrition program that provides extra community support for women of all ages and their babies
Group Programs provide a safe and inviting space for parenting and personal development programs.

Sandgate Women's Shelter
The Women's Support group is a 10-week program designed to educate, empower and support women who have been or are experiencing abuse in a safe and non-judgemental environment.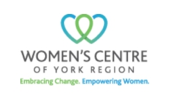 Women's Centre of York Region
A range of group programs that support women in building the skills and confidence they need to make positive changes in their lives, including career exploration, financial empowerment, and life skills.

Women's Support Network
Safe Passages is a healing retreat for women who have experienced sexual exploitation.
Soulful Awareness & Recovery Yoga sessions will include gentle trauma informed yoga, breath work, energy work, sound healing & mediation will connecting in a safe sacred space, accessible for all levels.

Yellow Brick House
Group Support: When Love Hurts teaches about the patterns of abuse
Parenting Support Groups: Handle with Care and Mothers in Mind© enhance parenting skills.