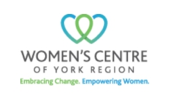 Agency: Women's Centre of York Region
For women who have identified the need and desire for positive change in their lives, Women's Centre of York Region offers unique programming and services that address a range of circumstances.
Unlike any other organization in York Region, our programs and services are offered at little or no cost. In a safe and inclusive environment, we welcome each woman and meet her right where she is. Our goal is to fully support each woman on her personal journey of discovery in order that she thrives fully. We value 'community' and work collaboratively with each woman we serve.
We're best known for helping women break through barriers to success and reach their true potential.
Operating from a feminist, anti-oppressive, anti-racist framework, we believe that investing in women and their futures makes an impact, not only on their lives but also in the lives of their families and their community. Since 1977, Women's Centre of York Region has offered a safe place where women can get the support to build self-esteem, the tools to develop a plan of action, and the opportunity to build the skills they need to help themselves and their families. We assist women from all backgrounds and cultures in York Region in building confidence and skills, helping them transition from hopelessness to possibility.
If we can help you, or if you would like to support us, please call us at (905) 853-9270.